FABIAN LANCE - REMINISCE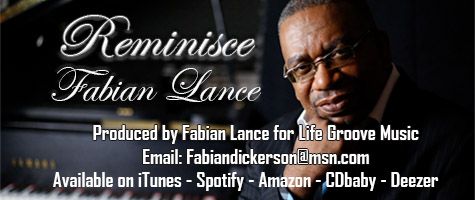 CLICK HERE TO BUY THE PHYSICAL CD
Fabian Lance is no newcomer to the music industry and the two songs included here prove that beyond a doubt. Born in Washington, DC., Fabian Lance studied music at Virginia Union University in Richmond, VA, the Alma Mater of Will Downing. Where Fabian was a musical protégé of Tyrone Corbett, Weldon Hill and James Saxsmo Gates just to name a few.As a pianist he has worked as an Music Director for many talented artist and musicians, has toured Europe several times with Broadway Productions, including Sister ACT I & II, The Wiz, and Eubie. Fabian has served as pianist for the late, great Ronnie Jordan, Plunky and Oneness, and the James Cleveland Music Workshop. He has also produced outstanding smooth jazz releases by Anthony Ingram  and Neo‐Soul by Joye B. Moore. A founding member of the Super Contemporary Jazz Group ‐ FRENS with Carl Lester‐El Jr. (Ramsey Lewis) and vocalist Rudy Faulkner, Fabian Lance has done it all. Trying not to make comparisons is very difficult when your sound and technique is classic; as is the case with Fabian Lance. Joe Sample, Jeff Lorber, Bob James, Paul Hardcastle, Brian Culbertson all come to mind when you listen to the entire scope of his songs. So much so, Sunset in Venice, Reminisce, Afterthought, Round Midnight and the ultimately smooth groove "B" Side , superbly produced by Veteran Producer, Singer, Engineer, Tyrone Corbett and his multi‐talented partner Robert Donzella, will take you to that place where the first thing you will ask is "Who is that?" Especially as Sunset has vocal stylings reminiscent of early Earth, Wind and Fire, performed superbly by St. Thomas, native, Rudy Faulkner.
CLICK HERE TO BUY THE CD AT ITUNES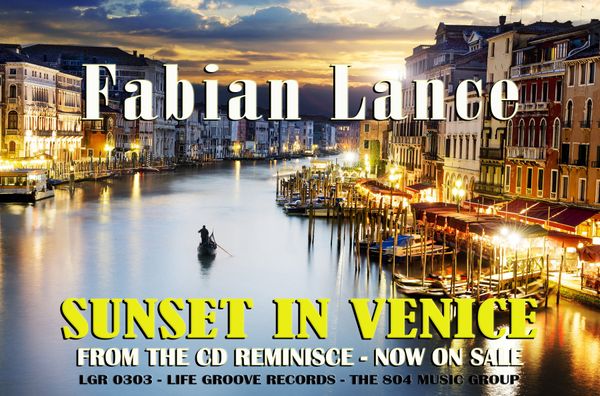 CLICK HERE TO BUY THE CD AT AMAZON
Crazy Love will also turn heads as Chyp bring this funky vocal track as close to jazzy‐funky‐cool as you can get. Sunset in Venice, the  Lead Single from the hit CD "Reminisce", is a picturesque landscape of the Venetian Sunset revealed  in song. Inspired by the actual experience of watching the Sunset over Venice, Italy, where Fabian  Lance was recently on tour. Sunset in Venice is a wonderful and timely spring release that creates the mood of beautiful evenings together with family and friends, sipping on your favorite beverage  listening to the smooth contemporary sounds of Fabian Lance. The CD "Reminisce" tells a story of versatility, musicianship, great production, and style. As the long‐awaited debut Solo CD for this veteran of many stages all over the world, this CD is the just the beginning of a great career as a recording artist for Fabian Lance.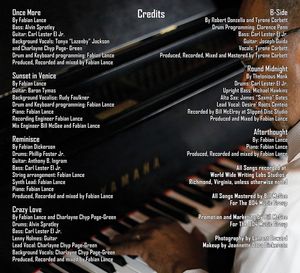 Fabian Lance ‐ Reminisce
1. Once More (5:27) [featuring Carl Lester El Jr., Charlayne Chyp Page‐Green & Tonya Lazenby]
2. Sunset in Venice (4:34) [featuring Rudy Faulkner]
3. Reminisce (5:28) [featuring Anthony B. Ingram]
4. Crazy Love (4:55) [featuring Charlayne Chyp Page‐Green]
5. B‐Side (4:27) [featuring Tyrone Corbett & Robert Donzella]
6. Round Midnight (8:16) [featuring Desire' Roots Centeio & James Saxsmo Gates]
7. Afterthought (2:46)
Once More By Fabian Lance Bass: Alvin Spratley Guitar: Carl Lester El Jr. Background Vocals: Tonya
"Lazenby" Jackson and Charlayne Chyp Page‐Green Drum and Keyboard programming: Fabian Lance
Produced, Recorded and mixed by Fabian Lance
Sunset in Venice By Fabian Lance Guitar: Baron Tymas Vocals: Rudy Faulkner Drum and Keyboard programming: Fabian Lance Piano: Fabian Lance Recording Engineer Fabian Lance Mixed by Bill McGee and Fabian Lance
Reminisce By Fabian Dickerson Drums: Phillip Foster Jr. Guitar: Anthony B. Ingram Bass: Carl Lester
El Jr. String arrangement: Fabian Lance Synth Lead: Fabian Lance Piano: Fabian Lance Produced,
Recorded and mixed by Fabian Lance
Crazy Love By Fabian Lance and Charlayne Chyp Page‐Green Drums: Alvin Spratley Bass: Carl Lester El
Jr. Lenny Holmes: Guitar Lead Vocal: Charlayne Chyp Page‐Green Background Vocals:
Charlayne Chyp Page‐Green Produced, Recorded and mixed by Fabian Lance
B‐Side By Robert Donzella and Tyrone Corbett Drum Programming: Clarence Penn Bass: Carl Lester El
Jr. Guitar: Joseph Guida Vocals: Tyrone Corbett Produced, Recorded, Mixed and Mastered by Tyrone
Corbett ISRC – TC‐ ACX‐17‐00033
Round Midnight By Thelonious Monk Drums: Carl Lester El Jr. Upright Bass: Michael Hawkins Alto Sax:
James "Saxmo" Gates Lead Vocal: Desire' Roots Centeio Recorded by Bill McElroy at Slipped Disc
Studio Produced and Mixed by Fabian Lance
Afterthought By: Fabian Lance Piano: Fabian Lance Produced, Recorded and mixed by Fabian Lance All
Songs recorded at World Wide Writing Labs Studios, Richmond, Virginia, unless otherwise noted
All Songs Mastered by Bill McGee For The 804 Music Group
Promotion and Marketing by Bill McGee For The 804 Music Group
Photography by Lamont Coward
Makeup by Jeannette Dora Dickerson
CD Design by Bill McGee
Fabian Lance ‐ Life Groove Music World Wide Writing Labs Music 5908 Baron Drive Chesterfield, VA
23832 Cell# 804‐852‐9467 Email: Fabiandickerson@msn.com - www.fabianlance.com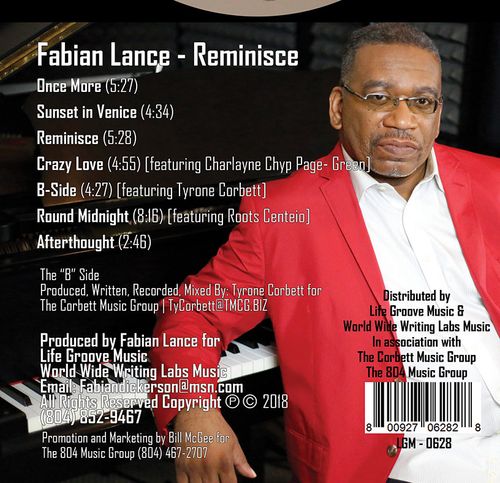 Tyrone Corbett - 
The Corbett Music Group 500 Eagle Rock Ave. West Orange, NJ 07052 (973) 736‐5400
TyCorbett@TCMG.biz
www.TCMG.biz
Bill McGee - 
Promotion and Marketing ‐ The 804 Music Group
www.804jazz.com
‐
BillMcGee@804Jazz.com
(804) 467‐2707
Sign up for Free Stuff & Gig Info
The Home of Great Music Jazz/Gospel/Soul
Bill McGee
The Tree of Life
James Saxsmo Gates
Together We Can Make It
Bill McGee
Still Bill
Rev. Cora Harvey Armstrong
Greater Is He
Dr. Weldon Hill
Free Expression
James Saxsmo Gates
Gates Wide Open
Bill McGee
Chase The Sunset
James Saxsmo Gates
It's Time
Bill McGee
Soul Man
James Saxsmo Gates
C'ome Over To My House
Bill McGee
This One's 4U
Bill McGee
Still Bill #18 Billboard