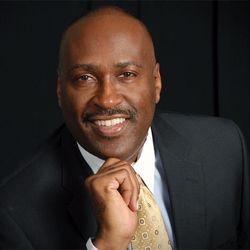 Musicologist,composer,and pianist,Weldon Hill is active as a performer, composer, and writer. He is most well known as a pianist, having shared the stage with artists such as Jon Faddis, Joe Williams, Steve Wilson, Marleana Shaw, Benny Carter, Jae Sinnett, Andrew White, Ron Elliston, and Jo Marie Payton. His own piano trio has performed with Donald Harrison, Renee Marie, Andrew White, and EarnieAndrews, among others. As pianist with the Great American Music Ensemble (an often-featured big band at the Kennedy Center and for National Public Radio) and with such artists as Herb Jeffries, Jimmy Heath, Benny Carter, Ronnie Wells, Milt Hinton, and Ethel Ennis. A native of Richmond, Virginia, Hill holds a Bachelor of Arts degree in music education from Virginia Union University (Richmond), a Masters of Music degree (in composition) and Doctor of Philosophy (musicology/music theory) degree from the Catholic University of America (Washington,DC). His dissertation, a comprehensive analysis and history of Duke Ellington's Sacred Concerts, is considered the seminal work on the subject in musicology. He completed post-graduate work at Virginia Commonwealth University (Richmond) in jazz studies. Hill holds post-doctoral certificates from Harvard University (Management DevelopmentProgram class of 1994) and the American Council on Education Fellows Program (class of 2000-01). Additionally, he was a 1986 National Endowment for the Humanities Fellowship recipient, and was awarded a Plan for Social Excellence Post-Doctoral Fellowship. Hill was a piano student of Russell Wilson, having also studied with Ralph Ostoff and Bob Hallahan, Weldon has also participated in master classes and other sessions with Mulgrew Miller, Mary Lou Williams, Freddie Waits, Dr. Billy Taylor, and Jaki Byard, among others. Having worked in higher education since 1982 as a professor and administrator, Dr. Weldon Hill currently serves as Provost and Vice President for Academic Affairs at Virginia State University (Petersburg). 
Liner notes from Free Expression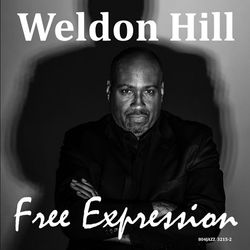 For a very long time, I have thought about and envisioned writing the music for, rehearsing, and time in the studio toward the release of this recording. I have called it Free Expression, honoring the thinking of the incomparable Edward Kennedy 'Duke' Ellington, who rejected the label 'jazz', preferring to characterize his own music as that which embodied 'freedom of expression'.  Conceptually,the foundations of this recording are the style to which we refer as 'Swing' (from the 1930s) and space—the interplay between sound and silence that allows each musician to participate in the dialogue with full liberty and profundity. And so,we express our individual  and corporate emotions, thinking, and musicianship; with grateful hearts, we offer this music to those for whom it may have meaning or give some pleasure. The music on this record represents memories of places and times in my own life, inspired by those whom I have encountered in many ways. I am a child of the 1960s, and I was captivated by the music from the television talk shows and situation comedies of that era, all of which seem to have had their own big bands and striking theme music. Jackie Gleason's theme from The Honeymooners—Melancholy Serenade—and the Fifth Dimension singing One Less Bell to Answer were two of my favorites. Much of my musical influence comes from the songs I heard as a child at the Good Shepherd Baptist Church (Richmond, Virginia) and from Grandmother's Praying Band fervently singing in her living room, so we swing What a Friend We Have in Jesus the way they did. I listened to, and was captivated by, the recordings of Count Basie, Cannonball Adderly, Nancy Wilson, Ella Fitzgerald, Harry Belafonte, Sarah Vaughn, and Oscar Peterson, all of which were in our home when I was a child. The totality of these influences have resulted in my reverence for the blues and its urbane, unabashed rawness which move me like no other genre—hence the blues songs and sounds on this disc—most pointedly in Mike Hawkins' Blues for the Weary Traveler; my own Thyrio (and acronym for 'the horse you rode in on'). The treatments of traditional so-named 'jazz standards' and some newer music are our experiments with extended form, alternative chord progressions, rhythmic styles, and melodic excursions (All of You, A Shade of Jade, Good for the Soul What is this Thing Called....Love?, [sic] and Manteca). There are some special original songs, the first of which is Mike Hawkins' Izee—for his Mother. Most importantly, this entire project is dedicated to my Mother, Deloris Rebecca Sturdavant Hill, who made certain that I had every opportunity to realize my heart's desires and whom I love and cherish like No One Else—the song in special tribute to her.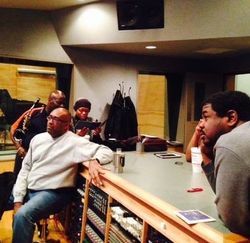 I am mightily devoted and grateful to the musicians on this recording. Even beyond their unique gifts and consummate musicianship in solo and ensemble contexts, they are artistically uninhibited, loving human beings whose souls flourish to formacollectiveoutpouringofgracefulpower! For as long as I have known Desiree, James, Mike, and Billy (collectively, over 75 years), they have represented oases of peace and unswerving support. 
Available on iTunes, Spotify, Pandora, Amazon Music and all great download/streaming locations.
Sign up for Free Stuff & Gig Info
The Home of Great Music Jazz/Gospel/Soul
Bill McGee
The Tree of Life
James Saxsmo Gates
Together We Can Make It
Bill McGee
Still Bill
Rev. Cora Harvey Armstrong
Greater Is He
Dr. Weldon Hill
Free Expression
James Saxsmo Gates
Gates Wide Open
Bill McGee
Chase The Sunset
James Saxsmo Gates
It's Time
Bill McGee
Soul Man
James Saxsmo Gates
C'ome Over To My House
Bill McGee
This One's 4U
Bill McGee
Still Bill #18 Billboard