804Soul presents
The Night Before Christmas
by Larry Dee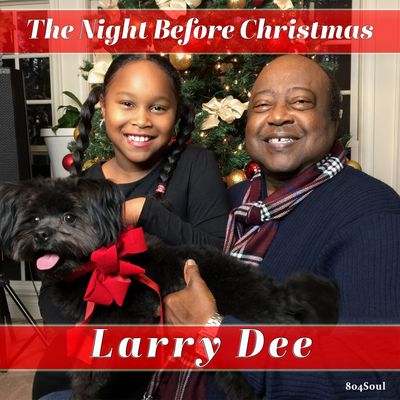 Larry Dee started his career at the tender age of five (5) in Dinwiddie County, Virginia. He wrote and sang his first song "I'm a Lonely Boy" when his feet couldn't touch the floor as he played an upright piano. A child protege, Larry was recruited to sing gospel with his sisters under the name "Little Larry Jones and the Jones Sisters". During this period his popularity grew and Little Larry Jones was booked to perform as an opening act for the famous, (Harmonizing Four) and the queen of gospel, (Mahalia Jackson). When he was only fourteen years old, Larry D. Jones learned how to play the bass guitar and put his first soul band "Larry Dee and The Imperial Rockers" together. As a brilliant young music student he learned to play the trumpet in school and as a freshmen became Captain of the Southside High School Marching Band. While in high school Larry Dee formed another Soul and R&B Band called The Eldorado's, a group that became very popular on the club circuit in and around Richmond and Petersburg, Virginia. After graduating, Larry Dee married his high school sweetheart, a marriage that is still going strong, having lasted well over 40 years.
Out in the real world, Larry Dee was recruited by one of the areas top club bands, the legendary "Mustangs". It was with the Mustangs that Larry played the proverbial "Chitterling Circuit" all over the south and it is where he developed his reputation as a solid musician and singer, who could stand toe to toe with anybody in R&B. As time moved on, he as a husband and father became aware that economically members of large soul bands didn't make a lot of money, so he made the decision to return to his first instrument; keyboards (a large organ with a built in rhythm machine and bass pedals.) Larry then recruited a guitarist to form what was to become the famous "Funky Two". Now, not only was the money easier to split two ways, but because of his talent and versatility, the "Funky Two" became one of the most popular bands in the area. So, Larry Dee, worked all the time, from small private functions to large clubs and concerts, while performing and taking care of his family. Larry continued to write soulful original compositions. Several of his compositions came to the attention of Kenny Gamble and Leon Huff's publishing arm Mighty Three Music Publishing, Mighty Three Music, subsequently licensed and published several of his compositions. Larry also recorded a rare 45" record entitled "It's No Wonder", which can be found floating around on the internet for a good deal of money. So, as the music industry changed and his responsibilities and family grew, Larry Dee turned to business to support his family. He has had a great deal of success in the Real Estate business, in the Insurance industry, and as General Manager and co-owner of several very successful urban radio stations.
In 2015, Larry Dee returned to his first love, "Music". The soulful, original composition "The Night Before Christmas" has the potential to become a big hit and a holiday classic. This song has everything that a Christmas song needs to become a part of everyone's holiday library. Along with classic songs by Mariah Carey, Charles Brown and Donnie Hathaway, Larry Dee's "The Night Before Christmas" is here to stay and will give you sing-along holiday joy for many years to come.
Sadly Larry D. Jones passed away in 2022, after losing his wife Shirley earlier in the year. The new Album by Bill McGee "The Tree of Life" is dedicated to Larry and Shirley Jones. It features the title song composed and performed by his equally talented nephew Jay Baxter.
---
Every blue moon a song comes along that changes the game, Bing Crosby's "White Christmas", Charles Brown's "Merry Christmas Baby", Donny Hathaway's "This Christmas" and of course Mariah Carey's "All I want for Christmas is You". Christmas 2015 marks the debut of another Christmas classic that will be a regular from now until eternity. That song is Larry Dee's "The Night Before Christmas", a soulful new Christmas classic that is destined for mandatory Christmas season programming all over the world.  Written and performed by veteran soul singer and organist, Larry Dee. "The Night Before Christmas" is just plain and simple a Christmas Classic straight out of the box. There is no guessing, no pondering, no wondering, the first time you hear it, you know that "The Night Before Christmas" was meant to be shared with friends and family all over the world…  It's a soulful song with a classic horn tag that will immediately identify the song and trigger a joyful response. The lyrics aren't sophisticated, the song is about simple Christmas cheer with family love and togetherness. Again, the very first time you listen to this song you will know that it is destined to become a song that has a regular spot on the air waves all around the world… So enjoy your, Eggnog, your cookies, your ham and turkey, family, and whatever else you do as a Christmas tradition. But just remember that everyday throughout the holiday leading up to Christmas and beyond, we're all hoping and waiting to hear "The Night Before Christmas" by Larry Dee exclusively on 804Soul.
---
The International Soul Hit
"I Know You Got Soul"

Bill McGee
featuring
Larry Dee, Tom Reaves, James Saxsmo Gates, Brandon Lane
"I Know You Got Soul" by Bill McGee is a flash back to the days of Stax records and the Muscle Shoals Sound, real soul with a hip, modern groove. A soulful jazzy instrumental featuring Blues Guitar, Sax, Organ, a funky Bass along with Bill's dynamic horn lines and great gospel styled background vocals.
On this follow up single to the Top 20 Hit "Cantaloupe and Watermelon", Bill has called on his old school friends to get down on a soulful sound. The song features four of the 804 Jazz All Stars; Larry Dee, on organ, has been playing and singing soul and R&B since the mid 60's. Tom Reaves, on guitar, the son of a gospel quartet singer, was raised on gospel and the blues. James Saxsmo Gates, the son of a Cotton Club Dancer and a sax playing daddy, is equally at home playing, blues, straight ahead jazz or smooth jazz.Brandon Lane the youngster of the group is a bass prodigy. He recorded bass on Bill's version of "I Wish" when he was just thirteen (13) years old. He also produced "Haven't You Heard" on Walter Beasley's new CD. Bill McGee, wrote, produced, played trumpet, piano, clavinet and is playing all of the brass on this soulful hit. Bill is joined by James Holden Jr. on sax in the horn section.  Wanda Tiller, Wanda McGee (Bill's wife), and Thomasine Johnson are the soulful singers.
 "I Know You Got Soul" is a head nodding, line dancing, sing-along groove. Featuring bluesy solos and some down home soul, this song has a great hook and a smooth groove. Funky Soul and Jazzy Blues.
Contact:
www.804Soul.com
 Available for purchase worldwide at ALL of the digital download providers.
iTunes, CDbaby, Amazon, GrooveMusic
CREDITS
Produced by Larry Dee and Bill McGee
Recorded, Mixed, Mastered by Bill McGee
Lead Vocals, Larry Dee
Composed by Larry D. Jones, ASCAP
Background Vocals, Yolanda Westinghouse, Leandra Wilson, Wanda T. McGee, Larry Dee
Organ and Piano, Larry Dee
All horns, strings and bells arranged and performed by, Bill McGee
Guitar, Tom Reaves – Bass, Juan Nelson
Recorded at The 804MusicGroup - Studio A
mp 2015/2016 Larry D Jones Music Pub., ASCAP – 804Music Group
Sign up for Free Stuff & Gig Info
The Home of Great Music Jazz/Gospel/Soul
Bill McGee
The Tree of Life
James Saxsmo Gates
Together We Can Make It
Bill McGee
Still Bill
Rev. Cora Harvey Armstrong
Greater Is He
Dr. Weldon Hill
Free Expression
James Saxsmo Gates
Gates Wide Open
Bill McGee
Chase The Sunset
James Saxsmo Gates
It's Time
Bill McGee
Soul Man
James Saxsmo Gates
C'ome Over To My House
Bill McGee
This One's 4U
Bill McGee
Still Bill #18 Billboard